TUSK + Taylor*Simon*King 'Celebrating the Music of James Taylor, Carly Simon & Carol King'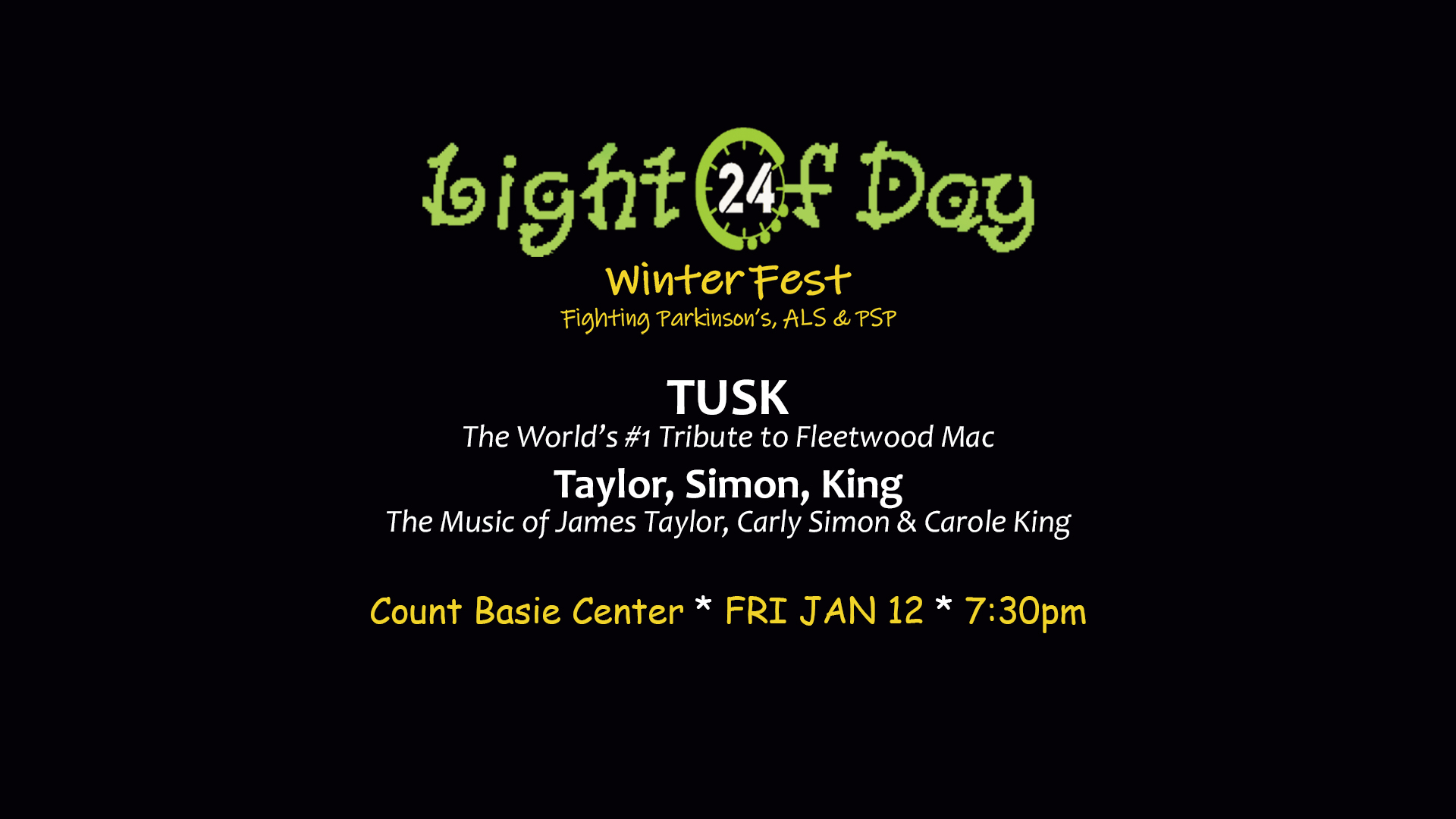 January 12, 2024
Count Basie Center for the Arts
99 Monmouth St,
Red Bank, NJ
United States
Details:
This show is part of Light of Day WinterFest 2024 therefore "FestPass" applies.
TUSK:
https://fleetwoodmactribute.com/TUSK/
*TUSK is the number one Tribute to Fleetwood Mac in the world, bar none. No wigs, no backing tracks, no gimmicks, just five musicians recreating the music of Fleetwood Mac to perfection with note for note renditions that no other Fleetwood Mac tribute on the touring scene today can come close to duplicating.
Tusk covers all the great hits of Fleetwood Mac, which has featured the talents of Mick Fleetwood, Christine and John McVie, Lindsey Buckingham, Stevie Nicks and others over the years. The five seasoned, well-respected musicians comprising Tusk have been making music together in various combinations and styles, in original outfits and in cover bands, for over twenty-five years. It seemed only fitting that they should come together to form the Ultimate Fleetwood Mac Tribute and pay homage to a group that dominated the charts during the band members' formative years. Authentic-sounding and always respectful, Tusk leaves no stone unturned in replicating the sounds of one of the world's best-loved, top-selling bands
Taylor*Simon*King:
https://www.taylorsimonking.com
*The lives and careers of three iconic American singer/songwriters, James Taylor, Carly Simon and Carole King, have always overlapped and intertwined — and their music continues to inspire generation after generation. TAYLOR SIMON KING (TSK) celebrates these musical icons with unique arrangements, fan favorites, deep cuts and engaging storytelling with multimedia projections. Audiences will marvel at the versatility of Taylor Simon King's sensational band and fall in love with its three powerhouse vocalists' renditions of these classic hits.
TSK is headlined by Lisa Sherman (former Rockette/Broadway entertainer), clever songstress, Mary McCrink, and James Gedeon...whose interpretation of James Taylor is truly amazing. TSK's band members have performed with notable acts such as: The E Street Band, Loggins & Massina, Bon Jovi, South Side Johnny, Gary US Bonds, Max Weinberg's Jukebox, and many more. Taylor Simon King is produced by Sherman and her husband, Oscar and Golden Globe winner, Franke Previte (co-writer of "(I've Had) The Time of My Life" and "Hungry Eyes" from Dirty Dancing).
LOD Events
TUSK + Taylor*Simon*King 'Celebrating the Music of James Taylor, Carly Simon & Carol King'
January 12th, 2024
LOD WinterFest 24 - Songwriters On The River
January 17th, 2024
LOD WinterFest 24 Kick-Off
January 18th, 2024
Find more Events
Our Artists
Light of Day would like to thank all of the performers who have dedicated their talents for supporting our fight against Parkinson's.
View Past Performers
Store
Store for Light of Day Merchandise
Visit Shop